Bilberry and Organic Strawberry Powder (Pot of 150g)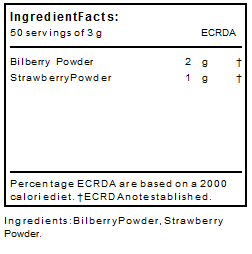 Recommended dose: 1-3 3gm scoops per day in water or sprinkled over food.
Allergen information: Strawberry allergy.
Cautions: If pregnant or breastfeeding, consult your healthcare practitioner before use.
Storage: Store in a cool, dry place out of the reach and sight of children.
Write Your Own Review
You're reviewing: Bilberry and Organic Strawberry Powder (Pot of 150g)