Spirulina shown to reduce blood pressure
Spirulina has long been hailed as a superfood for a number of reported health benefits and, recently, further studies have arisen to support this.
As reported in this article from Times Now Digital a recent study has even found that spirulina can help lower blood pressure and, as found in a separate study, aid blood sugar control.
Believed to have a high nutritional value, with 22 amino acids, vitamins A, B Complex and E, amongst other minerals and trace elements, spirulina's status as a superfood looks set to remain.
Vitamin C shown to protect Vitamin E levels
A review from a team of professors at the Oregon State University (OSU) College of Public Health and Human Sciences reported by NutraIngredients has found a link between low vitamin C and the impairment of the gut-liver axis's role in vitamin E transfer and bioavailability. This process that is crucial in preventing inflammation.
Speaking of the findings, review team member Maret Traber said "vitamin C actually protects vitamin E, so when you have lipid peroxidation, vitamin E is used up and vitamin C can regenerate it," adding, "if you don't have the vitamin C, the vitamin E gets lost and then you lose both of those antioxidants and end up in this vicious cycle of depleting your antioxidant protection."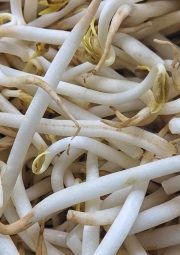 New research looks at the health benefits of mung beans
An article exploring the nutritional benefits of mung beans in Medical News Todayhas found that these beans could have a variety of health benefits.
Looking at a number of studies, the article suggests that, in addition to these health benefits, mung beans can be an effective way of people introducing more plants into their diet, especially because of the amount of protein and carbohydrates they offer.
The article also looked at the legume as a source of B vitamins, minerals and beneficial enzymes and their potentials benefits including antioxidant effects, anti-inflammatory activity and antifungal and antimicrobial activity.
Share your thoughts
Are you surprised by any of these results? Share your thoughts with us on the Metabolics Facebook and Twitter pages.
Alison is Director and Founder of Metabolics who writes about Metabolics updates, events and natural healthcare. Her experience and passion for natural supplements and healthcare comes from her years of experience as a practising osteopath, having founded Metabolics in her search for high quality, natural products in her own work. Alison has been a qualified and practising Osteopath since 1981 and regularly gives seminars on a range of healthcare subjects to the wider practitioner community helping share her knowledge and experience.