The anti-inflammatory properties of nutmeg
Despite being used in more festive dishes, nutmeg's anti-inflammatory properties could be reason enough to include the spice in cooking year-round.
A recent article titled "8 Science-Backed Benefits of Nutmeg" by Healthline suggests that nutmeg may reduce inflammation by inhibiting certain inflammatory enzymes. A number of other studies cited in the article suggest that nutmeg can benefit health because of its antibacterial properties and antioxidant content.
Despite these benefits, it's also worth keeping in mind that nutmeg, when consumed in excess, can cause side effects such as nausea and hallucinations.
The government considers fortifying flour with folic acid
The government is asking for public opinion on its proposal to supplement flour with folic acid in the UK.
This article from the Department of Health and Social Care states the importance of adequate folic acid, or vitamin B9, levels for the development of a healthy baby during early pregnancy.
Speaking of the proposal, Public Health Minister Seema Kennedy said, "We all want to give our children the best start in life and a birth defect diagnosis is devastating for parents. The simple measure of adding folic acid to flour would help spare hundreds of families from such a life-changing event."
The public consultation is due to last 12 weeks and will look at what kinds of products should be included.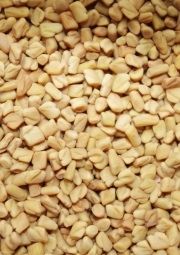 The benefits of nutrient-dense fenugreek
Fenugreek seeds are widely used in cooking, particularly in South and Central Asia, and come with a whole host of health benefits.
According to Ask Health News in the article "All You Need to Know About Fenugreek Health Benefits", in addition to Fenugreek seeds being high in fibre, protein, carbohydrates, fat, iron, manganese and magnesium, they also have anti-inflammatory properties.
One of the more interesting points in the article suggests that Fenurgreek seeds may also benefit new breastfeeding mothers by boosting their milk supply.
As the seeds can be included in a range of recipes, it's an easy way of boosting your daily nutrient intake.
Share your thoughts
Agree with the findings in this week's Nutrition News? Share your thoughts with us on Facebook and Twitter.
Alison is Director and Founder of Metabolics who writes about Metabolics updates, events and natural healthcare. Her experience and passion for natural supplements and healthcare comes from her years of experience as a practising osteopath, having founded Metabolics in her search for high quality, natural products in her own work. Alison has been a qualified and practising Osteopath since 1981 and regularly gives seminars on a range of healthcare subjects to the wider practitioner community helping share her knowledge and experience.